Invest in your future, then invest in your world.TM
Our shop in Costa Rica sells beautiful tropical hardwood furniture in a variety of styles from rustic to elegant. Our craftsmen can work from a photo or even a drawing if you want something custom made. The first two photos here are examples of work we recently completed; the rest on this page are photos of typical styles made in Costa Rica, some by us and some by others. We appreciate all those who have us growing trees for them on our plantations. If we don't keep planting trees, none of us ordinary folk will be able to afford solid tropical hardwood furniture like this in the future.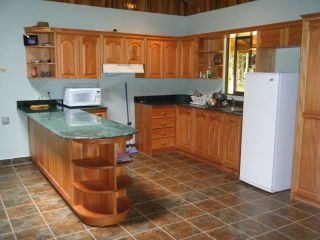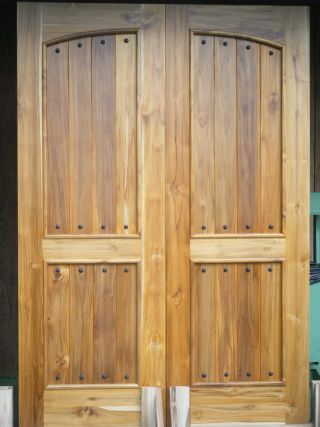 Above: Spanish cedar cabinetry and teak doors by Finca Leola
Below: A furniture store in Costa Rica. We can make pieces like these.

This teak baby crib is the woodworker's own design. It has toys hanging in front of a mirrored headboard, and converts to a child's bed. The changing area comes out and becomes two nightstands.

A natural-finish teak chest and some tropical hardwood bedroom furniture by the same artisan.



Below, from a furniture factory in Ciudad Quesada, a custom wall unit of teak heartwood and a cabinet door in progress made of teak sapwood (also called blond teak).
The same furniture factory in Ciudad Quesada made the mixed tropical hardwood dining table and six chairs below. The dark wood is bálsamo (Myroxylon balsamum), a very heavy tropical hardwood with a beautiful grain pattern, and the lighter wood is mahogany. This dining set is one of a kind, designed by Amy and the factory owner. Right now, there is only a small amount of both of these tropical hardwoods stored up, and the supply has all but stopped. That's why it's so important that we're planting them on our tree farms for the future.
Below: handmade laurel cabinet doors and a rustic-style Spanish cedar table. A carved teak set of doors and a Spanish cedar desk made in our furniture factory and an exterior door of mixed tropical hardwoods